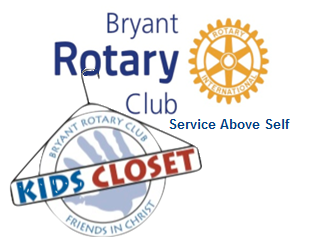 KIDS CLOSET​
A not for profit charitable project started in ​2008 by the
Rotary Club of Bryant, AR. Its mission is to provide needy
children in crisis situations with clothing and basic necessities.
The Rotary Club
A world-wide not for profit service organization dedicated to
​making a difference in local communities around the globe.
​The Kids Closet was started by the local Bryant, AR chapter.
Together
-
​
With your financial support, the Rotary Club
​and Friends in Christ was able to construct a 24' x 30'
​building suitable for operation of the Kids Closet on Friends
in Christ property.The building is equipped with heating and
​A/C, has ample ​space for efficient storage and organization,
and is accessible to volunteer workers 24/7.
​​